Reducer / centrifugal clutch for 8-15hp motors
SKU:
TFZZ92732
Unit:
tk
Qty:
Out of Stock
Delivery time:
21
• 25 mm for crankshaft
• 22 mm diameter output shaft
• 8-15Hp for petrol / gasoline engines
Suitable for: UP 173/177/182/188 Honda GX 210/240/270/340/390
Oil type: SAE 15W40 in winter / summer
Clutch Releaser: 2: 1
ATTENTION!
The product is supplied without oil.
Fill the oil before first use!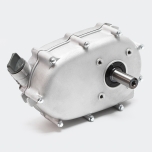 • 20 mm for crankshaft
• 22 mm diameter output shaft
• 5-6.5Hp for petrol / gasoline engines
SKU:
TFZZ92731 ,
Qty:
Out of Stock
,
Delivery time:
21